Valley Vines Twilight 5k
Friday, October 7th at 6pm
Valley Vines Twilight 5k
Friday, October 7th at 6pm
Valley Vines Twilight 5k
Friday, October 7th at 6pm
Valley Vines Twilight 5k
Friday, October 7th at 6pm
Valley Vines Twilight 5k
Friday, October 7th at 6pm
Valley Vines Twilight 5k
Friday, October 7th at 6pm
Valley Vines Twilight 5k
Friday, October 7th at 6pm
Valley Vines Twilight 5k
Friday, October 7th at 6pm
About this Event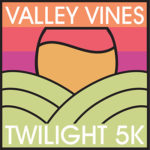 Date: Friday, October 7, 2022 at 6pm
Location: CrossKeys Vineyard in Mount Crawford, VA
Prices: Coming soon
Important Dates
The t-shirt deadline is September 26 at midnight.
The online registration deadline is October 5 at midnight.
Packet pickup will take place on-site directly before the race begins.
Walk-up registration ($10 price increase) is available at the start line at CrossKeys on October 7 from 4:30-5:30pm.
What is it?
The Valley Vines Twilight 5K is the best winery running event in the Shenandoah Valley! You'll run through the vines at CrossKeys Vineyard on a crisp fall evening, then share a bottle of wine with family and friends while listening to live music. Whoa, that sounds amazing! All skill levels welcome.
Food will be available for purchase at the winery following the run. Twilight 5K cost includes a t-shirt (if registered by September 20th) and one glass of wine for every registrant over 21 yrs. of age.
Presented by the Paul Whatley Team at Kline May Realty.